Assistive Technology and Computer Labs
Students registered with the Center for Disabilities & Access (CDA) may be qualified for the use of various assistive technology provided by CDA, and all registered students may use our designated computer labs and individual computers found throughout campus for school and course related work.
Assistive Technology
Computers in CDA labs have the following software installed:
Kurzweil 3000 (text to speech learning tool for Windows or Mac)
JAWS (Windows screen reading software)
Dragon Naturally Speaking (speech to text voice recognition software for Windows or Mac)
Zoom Text (screen magnifier for Windows)
We also have high-speed scanners, flatbed scanners, and CCTV's (document magnifier) available in our main Olpin Union office and in our Marriott Library computer lab. If you have suggestions for other software or devices you would like to use, email the CDA Assistive Technology Manager or contact your CDA advisor.
Other software is available from the University of Utah and may be installed on CDA computers if requested. Check the University IT Software Licensing website for available software and let us know if you would like something installed.
Computer Labs
Marriott Library, Accessibility Room 2130T (Map)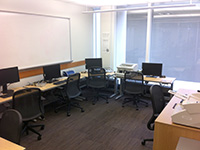 Located in the Knowledge Commons on the 2nd floor of the Marriott Library, this lab has 3 computer workstations on adjustable tables, a high-speed scanners, flatbed scanner, and CCTV. Workstations run both Windows and Mac operating systems and include assistive technology software.
This lab is open the same hours as the Marriott Library (Marriott hours) and is available to qualified students on a first come first serve basis.
The lab is in room 2130T on the north end of the Knowledge Commons area. It is a locked room and only accessible to students with authorized UCards. To have access to this lab students must have a valid and current university ID card (older UCards may not be able to open the card-swipe door lock).
Please contact the Assistive Technology Manager at CDA to request access. Marriott Library staff or helpdesk does not approve access to this lab. We will need the following information:
Full name
UNID
19 digit number printed upside-down on the backside of your UCard.
Accessible Computers in Student Computer Labs
We also have computers in public labs across campus. Computers in these labs are marked with the ADA symbol and are equipped with accessible software such as Kurzweil 3000, JAWS, and ZoomText. If you need accessible software installed on a computer in a campus lab, please contact us.
For additional information about assistive technology or the computer labs, please contact:
Manager, Assistive Technology & Alternative Format
Chris Green
Email: cgreen@sa.utah.edu
Phone: 801-587-8316