Captioning Services
The Center for Disability & Access (CDA) provides captioning services for Deaf and Hard-of-Hearing students approved for accommodations by CDA. Students can contact their CDA advisor to find out if they qualify.
Closed captioning is the process of displaying text on a visual display (TV, monitor, etc.) which provides transcription or additional interpretive details of the audio portion of a program as it occurs, sometimes including descriptions of non-speech elements.
The term "closed" (versus "open") indicates that the captions are not visible until activated by the viewer using a menu.

Note: On Canvas and most online video players, closed-captions are turned on by clicking on a "CC" menu on the video player and then selecting the language of captions from the available list.


Captions are stored in a text file which also includes a time-code for syncing the captions with the video. Many video players will play a captions file with your video.
Open Captions
If a video has open captions, the captions are permanently displayed on the video and cannot be turned off.
More info on Captions, Transcripts and Audio Description
Course CAPTIONING Services
Instructors who have been notified by the Center for Disability and Access (CDA) that they have a student in their course with an accommodation for captioning should work with CDA to ensure that course video and audio content is captioned before it is used for class. CDA will provide the captions for your content.
All audio and video (A/V) material used in your class needs to be captioned. Please help us have captions ready in time for your classes by notifying us of uncaptioned video content you will use as far in advance as possible of when the video is needed for class. Please reach out early and we can coordinate the captioning.
Before contacting us, please read through our tips below about how to best prepare your course content for captioning. After you are familiar with the material on this page, email us with the following information:
Course Name and Number
Description of how you plan to use A/V content in your course

example: "I post a weekly lecture video with a some supplemental videos".
If students will be required to create and post video for your course, please let us know.

Link to pages or description of where the A/V content is embedded or will be embedded on Canvas.

If you will be building your course as you go, please describe where you will post A/V. (ex. students will watch through the Media Gallery/Pages/Announcement.
We do not need to be added to your course.

Other web A/V links or files

Please see timelines below.
Can use a shared UBox folder if necessary.
For YouTube, see below.

Title(s) of A/V material

Only if necessary for us locate material. It's fine to say "all the videos on page needs CC".

Date the video will be used in the course

Please be specific about the dates if possible.
An estimate is fine if we have more than 3 weeks notice. e.g., "I'll show this sometime in November" or "Week 10 in the course Modules".
Please notify us by email any time new video content is added to your course
FALL 2020 COURSE LECTURE VIDEO ONLY
If we are able, we can have captions ready the same day as we are notified about a video upload. You're email will start the captioning much sooner and have a greater chance of it being done same day (considering normal business hours). If we can't complete them the same day, they'll be ready within 48 hours. These timelines are only for lecture videos which have been uploaded to Canvas or Mediaspace as outlined below.
FALL 2020 SUPPLEMENTAL VIDEO
Will be a minimum 48 hours for captions to be ready, but please submit as far in advance as you are able.
Please consider that the student will not have access to the audio in your lectures/supplemental video/audio for the time it takes for production.
If all video content is posted before the semester begins, then you'll probably only need to contact us once. Your videos may also already have captions. If UOnline or TLT or CDA has already captioned the videos on your Course page, let us know.
How to Prepare Your Course for Captions
Following these simple guidelines below can make a big difference for our captioning efforts. Please click on the links for more info.
Add videos to Canvas Pages, Announcements, Assignments, or Discussions using the Embed Kaltura Media tool.

Please do not post video links as Canvas Module items.
Don't use the Canvas Files section to show video content to students.
Don't post links to videos in UBox or other cloud services. We can't caption videos in these locations.
Don't post links to YouTube videos, use the correct method to add these to your page. (see below)

For your synchronous lecture uploads, use only Canvas Media Gallery, Pages, or Announcements.
Notify us about in-class video you will be showing.
Use Kaltura Capture to record asynchronous screen capture lectures and embed them on your Canvas Page.
Embed YouTube videos correctly using Embed Kaltura Media in Canvas Pages or the Add New menu on Mediaspace.


If YouTube videos don't have edited CC (see below

)

, please don't post the links right on the Canvas Page, use the method outlined below.
If YouTube videos already have edited CC (see below), embedding using this method is not necessary, a YouTube link posted on your Canvas page works great. Captions from YouTube will not carry over to the video if it is uploaded through the Embed Kaltura Media tool.

Choose supplemental audio that already has transcripts available.

Upload or embed your supplemental video content to your Canvas page.
Embed Kaltura Media Tool
Use this Canvas Page editor tool for uploading video, creating your screen capture audio and video lectures, and uploading YouTube videos.

Kaltura Capture
Excellent screen and audio capture tool built into Canvas.
Can be found on your Canvas course page in the My Media section or through the Embed Kaltura Media tool in the Pages editor or through the U of U Mediaspace "Add New" menu.

How do I record a webcam/screen capture video?
TLT's Knowledge Articles on Recording and Using Videos in Canvas
YouTube Videos on Canvas
Embed YouTube videos in your Canvas course Page using the "Embed Kaltura Media" tool in the Page editor's (shown above), we can add captions directly to these videos. You do not need to be the channel owner to do this.
This method is much more convenient for students using captions, and requires minimal effort for you. An added benefit is that currently these YouTube videos will remain on the Kaltura video servers and be available through your My Media even if the YouTube channel removes them.
VIDEO: Using the Embed Kaltura Media Tool for YouTube Videos
TLT Knowledge Article: Adding YouTube Videos to your course
We can't add captions directly to videos linked by a YouTube hyperlink on a Canvas page. Video posted this way should be reposted using the Embed Kaltura Media tool.
If YouTube videos don't have edited CC (see below

),

please don't post the links right on the Canvas Page, use the method outlined below.
If YouTube videos already have edited CC (see below), embedding using this method is not necessary, a YouTube link posted on your Canvas page will work fine. Captions from YouTube will not carry over to the video if it is uploaded through the Embed Kaltura Media tool.
If necessary, we will add a "(CC)" link on your Canvas page near to a URL linked video which will redirect students to the Amara.org website or the University's Mediaspace site which will host the video with captions.
Supplemental Video
Pick your content early. Choose online video that already has edited captions.
YouTube
In most cases, YouTube's auto-captions are not sufficient for our students. Lack of formatting in the text and spelling errors can be very disorienting for a reader. An edited captions file has the formatting corrected and will need to be created.
YouTube can filter search results by videos that have edited captions files.
Enter your search terms
Open the Filter menu
Select "Subtitles/CC"

Selecting Edited Captions on YouTube
Edited captions on YouTube will automatically play in most instances if it is available. If the video begins and the "CC" icon is automatically on (a red underline under the CC button), these captions are likely an edited version. But not always.
To check, click on the Settings button (small gear icon next to the CC button in the image below) and select the Subtitles/CC option.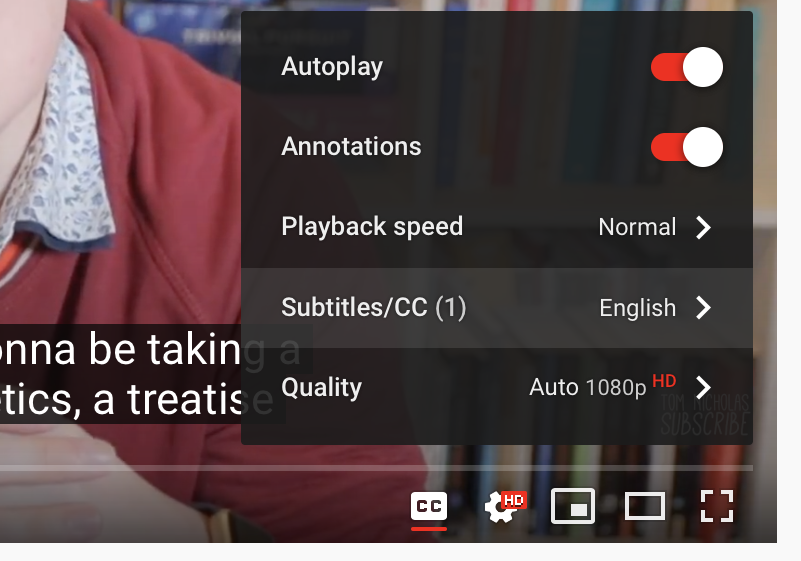 This list will show available subtitle/captions languages. If "English" (or the language you're looking for) is available, that means it is an edited captions file. You can click to select it.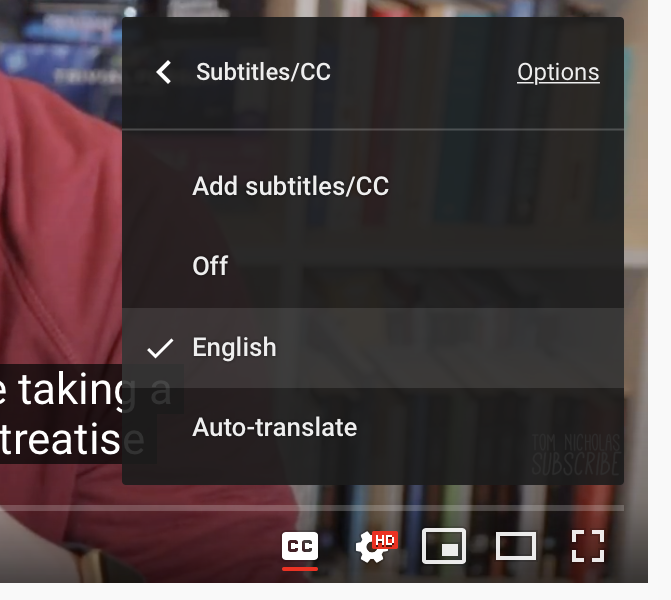 If "English (auto-generated)" is the only option available, this is not an edited file. This is the YouTube auto captions. You can check at www.amara.org using the videos link to see if a captioned version is available there, and contact CDA for help if it is not.
Are you the Channel Owner?
If you are the owner of the YouTube/Vimeo account where the video is posted, you can add caption files that we have produced for you to your videos, update the existing Automatic Captions (for YouTube), or create your own captions using their tools.
Marriott Library Video?
Ask the Library if a captioned version of the movie you would like to show is available. Many videos from the library's video services such as Films on Demand are already captioned.
Amara hosts YouTube and Vimeo videos that have had captions created by someone other than the channel owners. Search for your YouTube/Vimeo content there if it doesn't have edited captions.
In-Class Video
Follow the same guidelines as applicable for in-class video. Uploading your digital video files or YouTube/Vimeo content to MediaSpace is a great way to keep your supplemental content all in one place.
Using DVD?
Check for CC options in the DVD menu. If it is not available we may need to borrow your DVD well in advance to work on creating captions. There may also be other online versions that do have captions. For example, check Amazon.
Using VHS?
Yes, it's still around. Please contact us if you have VHS content you'll show in your class.
Using Audio Embedded PowerPoint Presentations?
We cannot caption Powerpoint files with embedded audio. But they can easily be converted to a video file using Powerpoint and that video can be embedded into your Canvas Page which we can caption. You can of course post the powerpoint file along side as well. If you have embedded supplemental video in these presentations, that content will be captioned as well.
To convert your presentation to a video on Windows, open your PowerPoint file and go to the File menu, select Exports, then Create a Video. Adjust any settings and click Create Video. An .mp4 file will be created of your presentation. Upload this file to Canvas using your Canvas My Media or Mediaspace My Media.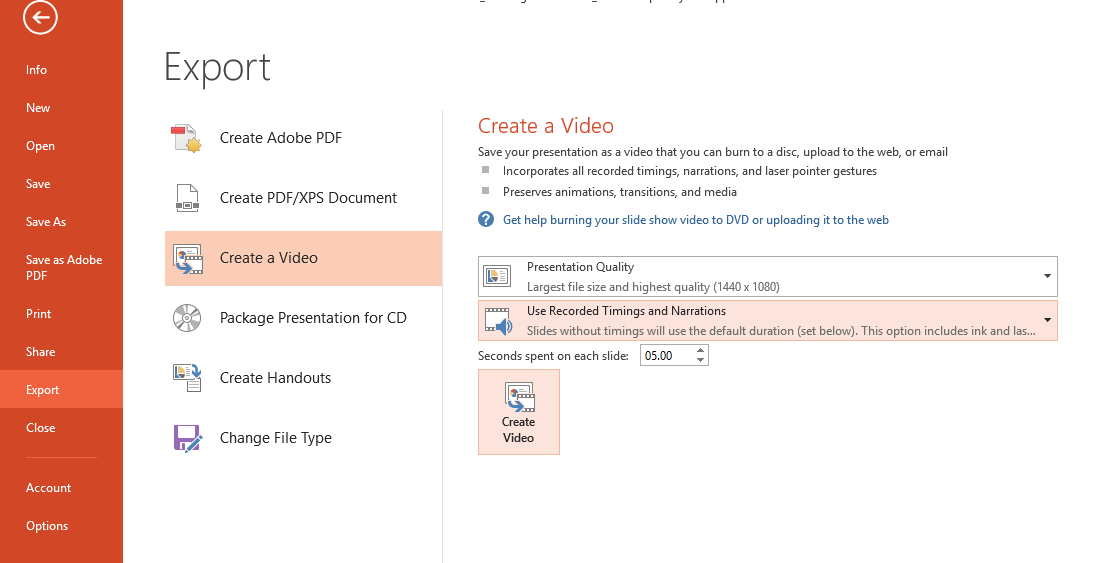 Alternatively, PowerPoint or other presentation softwares can easily be recorded along with audio or video using the University's Kaltura Capture tool through Canvas or Mediaspace.
Synchronus Zoom Lectures
For CDA accommodated students, synchronous (or live) Zoom lectures will be captioned live by a professional captions provider who will join your Zoom meeting as a participant.
The Zoom meeting Host will need to first enable "Closed Captions" in their Zoom Settings online and then assign this provider to type captions once the Zoom meeting has begun. The process is very simple and you will only need to enable the "Closed Captions" setting once.
If your course will have live Zoom lectures, please watch the video linked below to see how this works.
Please contact Charity Harding at charding@sa.utah.edu if you will be using Zoom for live lectures and we can begin to arrange the captioning providers for your course.
Course Observers
CDA may add observers to your Canvas course if necessary to assist with monitoring and captioning of video content.
Transcription and Audio Description Services
We will also accept requests for transcripts of audio and video material following the same guidelines as above.
Audio description services for videos is available. Turnaround time for production is a minimum of 7 business days. Please contact us for more information.
CAPTIONs DELIVERY
Delivery of captioned videos or caption files will depend on the project. Most are delivered by one of the following:
Canvas auto update (for videos in Canvas using Kaltura embed tools, My Media, or MediaSpace)
MediaSpace link
Amara web captioning service
Digital file (typically for open captions)
Dont have a CDA registered student in your course?
The Center for Disability and Access is currently providing captioning services only for courses with CDA registered students enrolled who are approved for captioning accommodations.
Want to try captioning your own videos?
Captioning YouTube Videos: http://ncdae.org/resources/cheatsheets/youtube.php
How to Edit YouTube Auto Captions Jan 2020: https://youtu.be/GSW7x4_LzCs
One method for getting caption files is to upload any video to your YouTube account, wait for the Auto Captions to appear, Edit the auto captions, then download an .srt captions file from YouTube that you can use with most other video players (including in the Universities Mediaspace edit menu). You don't have to make the video public on YouTube to do this and once you are done can delete the video.
You can also get crafty using the Google Translate App or webcaptioner.com
Amara hosts YouTube and Vimeo videos that have had captions created by someone other than the channel owners. Search for your YouTube/Vimeo content there if it doesn't have edited captions. Amara.org's captions editor for YouTube video is very user friendly but you do have to have a free account to use it.
Mediaspace Captions Editor: more soon...
Thank you! This service is a crucial piece to our student's success and has a positive impact for many other students as well.
Contact us:
Chris Green
Assistive Technology and Alternative Formats Manager
Email: cgreen@sa.utah.edu
Phone: 801-587-8316
Center for Disability & Access
801-581-5020